today i'm joining
kerrie
,
kerry
, and
alesha
with another installment of: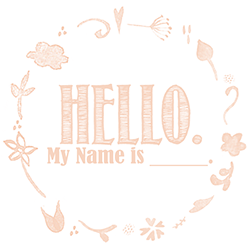 you can read

here

to get more insight of the purpose of the link up.
i love knowing that the Lord in pulling me out of my darkness called me by my name. not by my failures, or past, but by name. a personal calling.
and throughout my walk with Him, in every changing season, He gives me a new name. a name that teaches me what He needs me to be, where He is calling me to next.
today in this season, my name is
humbled
now i know that maybe it should read as humble and not humbled, but that would mean that i am there already, humble as Jesus, giving freely, not thinking of himself. but i'm not.
through this season, the Lord is ripping away every little bit of pride that resides within my heart. pride that has kept me from forgiving completely as He's forgiven me. pride that has kept me from freely encouraging out of pride for myself. pride that has kept me sitting comfortably in my seat instead of serving as He would.
He has been working in that part of my heart gently yet relentlessly as He knows my desire to serve and be more like Him. it's been hard, some of it painful, yet i know the end will be more beautiful than i could ever imagine.
what is the name you are being called by the Lord today?